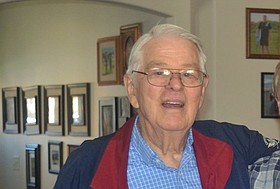 David E. Brownlee
Omak, WA
October 4, 1938 - August 1, 2017
David E. Brownlee of Omak, Wash., passed away Aug.1, 2017 in the presence of his family. He was born Oct. 4, 1938 in Brewster, Wash., to David and Leda Brownlee of Pateros, Wash. He attended school in Pateros, Wash. where he played football, basketball and track. Graduating from Pateros High School in 1957. David served in Korea in the U.S. Army.
He is survived his daughter, Dana Peterson of Omak; son, Aaron Brownlee of Corpus Christi, Texas.; grandchildren, Justina and Brett Carlson, DJ (David) Petersen of Omak, Wash., Torie Sloan of Okanogan, Wash.; great-grandchildren, Aubrey and Cooper Carlson and Kamryn McClung; sister, Ellen Brownlee of Pateros, Wash.; brother, Perry Brownlee; and nieces and nephews.
Services will be held at 11 a.m. Sept. 9, 2017, in Pateros, Wash., at the Church of Christ. Money may be donated to Friends of Hospice at 800 S Jasmine Suite #2, Omak, WA. 98841.
Services for David E. Brownlee