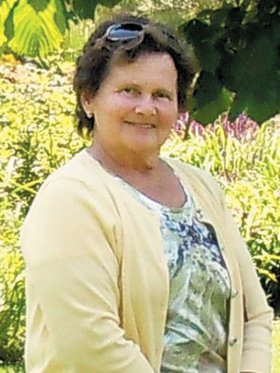 Lola Burton
Tonasket, Wash.
October 17, 1943 - July 22, 2013
Lola Burton passed away on July 22, 2013, at her home in Tonasket, Wash. She was born in Port Gamble, Wash. on October 17, 1943, to Lowell and Mae Hill.
Lola grew up in Poulsbo and as a child, had fond memories of playing with the chicks on her great- grandparents farm. She would often share stories about her grandparent's slaughterhouse and talk of making traditional lutefisk and lefsa.
She attended school in the North Kitsap School District and graduated from North Kitsap High School in 1962.
In 1962, Lola married Patrick Burton, an Army veteran. The couple initially lived in Poulsbo before moving to Suquamish to raise their family. Lola worked at Suquamish Hardware Store and as a custodian for the Kitsap School District. Once Pat retired, they moved to their home in Tonasket where she lived for the last 19 years. Pat is in long-term care with the Tonasket Nursing Home.
Lola had a generous heart and would never let someone in need or a stray animal go without care. She was a devoted community volunteer, assuming leadership roles in the Garden Club, Wauconda Women's Country Club and the Hospital Guild. She organized projects for the community, such as Sock Hops, quilt drives, food drives, clothing drives and volunteered at local festivals and holiday booths. She also spent time volunteering at the assisted living home, playing cards and would always lend a helping hand to lighten the load for families and friends.
When she wasn't volunteering, Lola filled her time quilting, gardening, painting and was always in the middle of some type of crafty endeavor. Being the adventurous type, Lola loved traveling, kayaking, bungee jumping, fishing, snowmobiling, fishing, camping, and snorkeling.
Lola was treasured for her fun- loving attitude that would fill a room and make everyone present feel like family. She could find a way to make light of most any situation and often joked that burnt food was just 'Ranch Cooking'.
She is survived by her husband, Patrick Burton; daughters, Pamela Maier Burton, and Mona Burton; grandchildren, Jessica Maier, Robert Powell, and Brett Burton; and her beloved pets. She was preceded in death by her parents.
As per Lola's request, no memorial services will be held. Condolences may be made via the Lola Burton Memorial group on Facebook. Memorials may be made to the Garden Club, Wauconda Women's Country Club, or a charity of your choice.
Bergh Funeral Service of Oroville/Tonasket is in care of the arrangements.