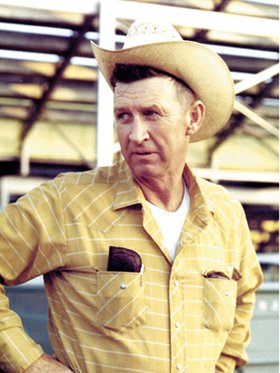 Ed "Ted" Buchanan
Ellensburg, Wash.
January 22, 1922 - July 16, 2013
Ed "Ted" Buchanan was born in Belville, Ontario, Canada on Jan. 10, 1922, and died in Ellensburg on July 16, 2013. He was 91.
Ted Buchanan, a WWII Army veteran, was known by all as a strong and quiet man who had a great sense of humor and loved practical jokes. He never lost his temper and his handshake was stronger than any written contract. He grew up in the Depression and as a teenager helped his dad support his brothers and sisters.
For years, he and a partner provided rodeo stock for amateur rodeos where he performed duties as a pickup man and chute boss. Whenever possible, Ted actively participated in the chuck wagon races. He was the owner/operator of a cattle-hauling business for over 30 years.
He moved his family from Spokane to a small spread up Wilson Creek in Ellensburg in 1960. His daughters became involved in the Wranglerettes, and he was always available to haul the team's horses to the various destinations. After selling his trucking business, he worked for Ellensburg Cement for over 10 years. During retirement, he and his wife, Loretta, enjoyed fishing, traveling, watching the grandchildren, and great-grandchildren as they grew up participating in sports activities.
He is survived by his wife, Loretta of Ellensburg; three children, Alyce Buchanan Rankin (Gary) of Camas, Edra Buchanan Roberts (Doss), and Dan Buchanan (Kris), all of Ellensburg; five grandchildren, Jesse Rankin, Brian and Justin Roberts, Haley Buchanan Naboychik and Kyle Buchanan; five great-grandchildren, Carson and Abbey Roberts, Cooper and Reaghan Naboychik and Grady Buchanan; a sister, Juanita Davis of Omak; and numerous nieces and nephews.
At his request, there will be no funeral service. Family and friends are invited to a Celebration of Life at 1 p.m. at the Moose Lodge in Ellensburg on Saturday, Aug. 3. The family requests friends come with stories and anecdotes to share.
In lieu of flowers, donations may be made to "Shop with a Cop," c/o Jason Berthon-Koch, 400 E. University Way, Ellensburg, Wash. 98926-7527, or Hospice Friends of Ellensburg, 401 E. Mountain View #3, Ellensburg, Wash. 98926.
Arrangements are by Brookside Funeral Home and Crematory.