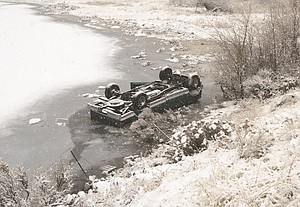 BARSTOW - Two people died in separate vehicle accidents Jan. 11 as snow blanketed north central Washington.
A Kettle Falls woman died after her car collided with another vehicle on Highway 395 a mile north of Barstow in Ferry County.
Elizabeth M. Zuniga, 32, died at the scene, the Washington State Patrol said.
She was northbound at 11:06 a.m. when her car slid sideways and entered the southbound lane, where it was struck by a pickup truck driven by Alex W. Noyes, 26, Kettle Falls.
The patrol attributed the collision to speed too fast for conditions by Zuniga.
Noyes was taken to Mount Carmel Hospital in Kettle Falls, as was his passenger, Brian L. Davis, 37, Rice.
All of those involved were wearing seatbelts.
Both Zuniga's convertible and Noyes' pickup were destroyed.
In the second accident, Harold J. Chadwick, 78, Coulee City, died when his pickup truck went off Highway 17 about 11 miles north of Soap Lake and went into Lake Lenore.
Chadwick was southbound at 9:36 a.m. when he lost control of his vehicle, which rotated clockwise and went off the west embankment, the Washington State Patrol said.
The pickup, which the patrol said was traveling too fast for conditions, rolled over several times and came to rest on its top, halfway submerged in the lake.
A passenger, Connie L. Chadwick, 74, was injured and was taken by ambulance to Samaritan Hospital in Moses Lake.
Both were wearing seatbelts.
More like this story
Latest stories
Latest video: