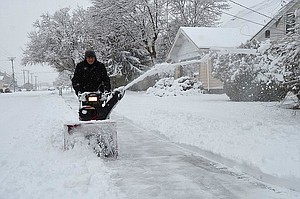 OKANOGAN — Thursday's snow storm – albeit short-lived – impacted car insurance premiums, power lines and school start and end times across the region.
The Washington State Patrol responded to 90 weather-related collisions on state highways across north central Washington on Thursday; 55 occurred on the I-90 corridor at Snoqualmie Pass, Trooper Brian Moore said.
Locally, WSP troopers responded to six weather-related collisions in Douglas County (three on Highway 17) and one in Okanogan County on Thursday, mostly due to drivers traveling too fast for conditions, Moore said.
Troopers also responded to two fatalities, one in Ferry County and the other north of Soap Lake. More information will be in Wednesday's edition of The Chronicle.
Methow Valley students left school at 2 p.m. Thursday when the lights went out in the Winthrop-Mazama area. Heavy snow loading caused outages for Winthrop customers served by the Okanogan County Electric Cooperative, said Don Coppock, interim general manager of the Okanogan County Public Utility District.
"The outage was caused when heavy snow weighted down the Loup transmission line, which caused a breaker to open and the power went out," he said.
The PUD had approximately 1,095 meters in the Malott area affected for about 2.5 hours, plus the co-op customers. The latter were affected for about 3.5 hours.
Twisp residents did not incur a power outage.
Pateros School District canceled classes for the day, and the Omak School District canceled afternoon preschool.
Bridgeport School District dismissed classes 1 p.m. Thursday because of accumulating snow.
Sports teams issued revised schedules. The Chelan at Omak and Manson at Liberty Bell games were rescheduled, and the Brewster at Lake Roosevelt and Bridgeport at Cascade games were canceled.
On Friday, Pateros School District started two hours late.
The National Weather Service's snowfall totals for Thursday revealed northwest Winthrop boasted the greatest snowfall total at 12 inches. Okanogan saw 5 inches; Mazama 4.8 inches; Oroville 4.5 inches; Chesaw 4 inches and Tonasket 3.8 inches.
In Ferry County, Republic received 4.5 inches; Sentinel Butte 4 inches; Boyds 3.4 inches and Gold Mountain 2 inches.
Latest stories
Latest video: