Thursday, January 11, 2018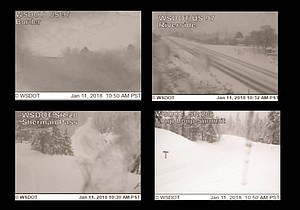 Icy mountain passes and school closures have befallen the region, along with expected accumulations ranging from four inches to several feet of snow today.
The National Weather Service issued a winter storm warning today through 7 p.m. for the inland Northwest, including the Okanogan Valley, Okanogan Highlands, east slopes of the Northern Cascades, Waterville plateau and Wenatchee area.
Around 4 a.m. today, the NWS Spokane Office predicted snow accumulations of:
-Four to eight inches today between 4 a.m. and 7 p.m. in the Okanogan Valley, including Omak, Okanogan, Brewster, Bridgeport, Oroville, Nespelem and Disautel Pass.
-Four to eight inches and nine to 12 in the mountains through 7 p.m. in the Okanogan Highlands, including Colville, Deer Park, Chewelah, Newport, Kettle Falls, Springdale-Hunters Road, Orin-Rice Road, Flowery Trail Road, Republic, Inchelium, Wauconda, Chesaw Road, Highway 20 Wauconda Summit, Boulder Creek Road and Sherman Pass.
-10 to 15 inches and 2 to 3 feet in the mountains through 10 p.m. in the east slopes of the Northern Cascades, including Leavenworth, Mazama, Twisp, Winthrop, Stehekin, Conconully, Blewett Pass and Loup Loup Pass.
-Four to eight inches, with localized amounts west of Highway 97 up to 10 inches, through 4 p.m. in the Wenatchee area/Waterville plateau, including Wenatchee, Chelan, Entiat, Cashmere, Waterville, Mansfield and Badger Mountain Road.
Drier weather will relieve the region this weekend and through early next week, although a pair of fast-moving storms late next week could deliver moderate snow in the mountains, the service reported at 6:22 a.m. today.
School closures
Pateros School District and afternoon preschool classes in the Omak School District closed today.
Icy mountain passes
Compact snow and ice along Highway 20 Sherman Pass and Highway 97 Blewett Pass prompted the Washington State Department of Transportation to prohibit oversize loads and advise traction tires.
Highway 17 closed 11 miles north of Soap Lake at the junction of Highway 2 and 17 near Coulee City due to a collision. The state Department of Transportation did not estimate a time for reopening as of 11 a.m. today.
Eastbound I-90 Snoqualmie Pass closed at milepost 45 near Bandera due to multiple spinouts and collisions. There is no estimated time for reopening.
Chains are required on all vehicles except those will all-wheel drive along westbound I-90 Snoqualmie Pass today. The fine for failing the chain requirement is $500.
Mt. Baker Highway on State Route 542 requires traction tires and chains on vehicles over 10,000 pounds. Oversize vehicles are prohibited.
Traction tires are required for all vehicles over 10,000 pounds on Highway 2 Stevens Pass today, and oversize vehicles are also prohibited.
On Friday, avalanche control will take place on both directions of Highway 2 Stevens Pass from 2 a.m. to 6 a.m. Eastbound traffic will stop at milepost 58 at Scenic and westbound traffic will stop at milepost 64 at the summit.
For the latest in weather information, see omakchronicle.com/news/weather-central.
More like this story
Latest stories
Latest video: