Thursday, January 11, 2018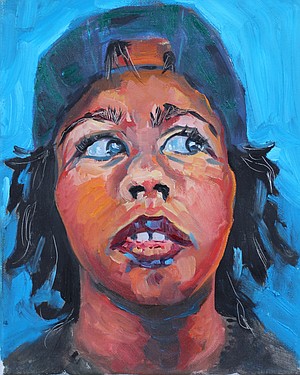 TWISP — Pathognomy, the study of passion and emotions, inspires oil painter Robin Nelson Wicks.
Wick, who served as Confluence Gallery's artist-in-residence for the past three months, kicks off a solo exhibit at the gallery's gift shop, 140 Glover St., with an opening reception from 4 p.m. to 8 p.m. Saturday, Jan. 13.
The Winthrop resident plays in pathognomy and the cultural language of color to form an audience connection, according to a press release.
Wicks' inspiration draws from a plethora of sources: art history, live theater, the nightly news and classical cinema, among them. Similarly, her art practice tends to wander – through many mediums, though always centered in storytelling and human emotion.
Wicks' resume includes serving as teaching artist at Liberty Bell High School, instructor for life drawing sessions at Confluence Gallery, member of the gallery's Education Committee and board member of the Methow Valley Chamber Music Festival and the Merc Community Theatre.
"A true champion of the arts in the Methow Valley!" Confluence Gallery wrote of its artist-in-residence.
Wick's solo exhibit will remain on display through Feb. 24.
The gallery is currently seeking applicants to its spring/summer artist-in-residence program. An entry fee, resume, letter of intent and up to 10 digital images are due by March 15.
For more information, visit confluencegallery.com/programs/make-art-work/artist-in-residence.
More like this story
Latest stories
Latest video: