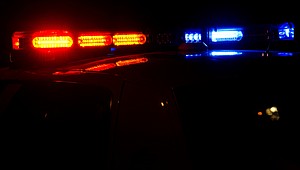 BRIDGEPORT — A Bridgeport man who allegedly threatened violence last year at Bridgeport High School pleaded not guilty in Okanogan County Superior Court Jan. 2.
Los Angeles police arrested Armando Morales Cervantes, 25, on a nationwide non-extraditable warrant Monday, Dec. 4, after he apparently neglected to attend an Aug. 7 hearing in Douglas County Superior Court on charges of felony harassment, threats to kill and possessing a firearm on school premises, according to authorities.
He had been "on the lam" for about four months, Douglas County Sheriff Harvey Gjesdal said.
Morales Cervantes was released from Los Angeles County Jail Wednesday, Dec. 20, and returned to Washington, where a preliminary hearing took place Thursday, Dec. 21, in Okanogan District Court. Bail was set at $20,000 that day.
As of Tuesday, Morales Cervantes remained on the Okanogan County Jail inmate roster.
Bridgeport school threat
On Dec. 13, 2016, principal Tamra Jackson placed district schools under "hard lock down" and called 911 after she received information about an individual parked at the high school, 1220 Kryger St., with guns in a car.
Sgt. Tyler Caille and Deputy Gary Cooper of the Douglas County Sheriff's Office found Morales Cervantes parked facing the front doors of the high school with a semi-automatic handgun lying on the center console, according to court records. Morales Cervantes told police the gun was loaded.
Upon clearing the gun, police found a live round in the chamber and six live rounds in the magazine.
A 17-year-old female student and Morales-Cervantes apparently had been in a dating relationship and the suspect allegedly sent the girl text messages threatening to kill a 17-year-old male student inside the school, according to court documents.
The phone number allegedly belonging to Morales Cervantes wrote "He's dead," "Either he goes or I go," "The only way this ends is him dead or me," "it's a nice day to die" and "You're really going to make me go in there and gun him in there," according to court records.
The texts also included images of a pistol, Morales Cervantes driving to the parking lot, the front of Bridgeport High School and Morales Cervantes holding a pistol to his head, according to the documents.
The pistol depicted in the photographs appeared to match the pistol recovered from Morales Cervante's car, Caille wrote.
He denied wanting to harm anyone other than possibly himself, court records said.
Asked about the gun, Morales Cervantes told officers he planned to go shooting at a gun range and was not aware he could not have a loaded firearm in his car or on school grounds.
Police booked Morales Cervantes into the Okanogan County Jail that day.
No-contact violation
On Aug. 1, 2017, Rivercom notified police of a domestic disturbance. A woman babysitting her sister's daughter reported her sister's ex-boyfriend was coming to take the child, and he is not the child's father.
The suspect threatened to kill the girl, kidnap her two-year-old daughter and assault police if they came for his arrest, according to text messages photographed by police.
"Go ahead call the cops idgaf," Morales Cervantes allegedly wrote. "I'm not going to jail. I'm going without a fight. Either they kill me, or I kill them. But I'm taking my daughter."
The texts also said, "Security doesn't even watch the cars. Better not speed cause no breaks on s (sic) car can kill you" and "I got my car. AR RIFLE. You did this to yourself."
Douglas County deputies obtained a new warrant for Morales Cervante's arrest Aug. 3. He did not appear for the Aug. 7 court hearing.
On Nov. 13, he was charged with harassment, threats to kill and domestic violence in Okanogan County Superior Court.
More like this story
Latest stories
Latest video: