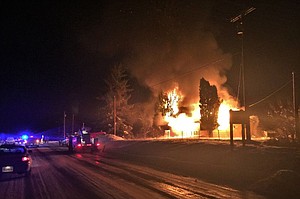 DANVILLE – A GoFundMe page has been launched for a local EMT and firefighter who lost his home in a New Year's Day blaze.
According to officials, Mario D'Lerma's home was raze by fire around 7:30 p.m. Monday, Jan. 1.
D'Lerma is a volunteer EMT and firefighter for the Okanogan Fire Protection District No. 14.
"Mario D'Lerma arrived home from volunteer service as an incident commander on a medical call only to find his own home in Danville full of smoke," officials said. "He immediately called Ferry County dispatch 911 and dashed to the Danville fire station minutes away to gear up and get the engine."
Fire officials said upon his arrival back to residence, the fire was beyond the capability of a single engine.
"The fire district dispatched four engines, a 2,000-gallon tender, an ambulance, ten firefighters and three EMTs, but before any of the reinforcing units arrived on scene, the home was fully engulfed by fire and became a total loss."
"This dedicated volunteer firefighter / EMT is one of the best there is," Fire Chief Foster Fanning said. "It was a tough turn of events that claimed his home and displaced his family on a bitter cold first night of the new year."
Officials said no human injuries were reported, but a dog died in the blaze.
"We are seeking assistance for the family, so they can rebuild their home," the GoFundMe page said. "They lost everything. Nothing was retrieved from the home before it burned."
"Any amount you can donate is appreciated, nothing is too small the page said. "The funds are needed as soon as possible."
More like this story
Latest stories
Latest video: