Saturday, February 20, 2016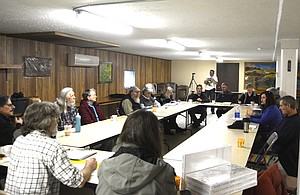 OROVILLE – The second in a series of economic round table discussions will be held at the Oroville Grange, 622 Fir St., at 10 a.m. today.
According to organizer and Grange Master Joseph Enzensperger, the discussion on city revitalization will be broken into five topic areas: Wood products, revitalization of Main Street, local food producers, outdoor, and service contractors.
"Participants will join discussion groups around the above mentioned topic areas," Enzensperger said. "Individuals may participate in one or more groups."
The morning discussions will focus on sharing individual's ideas on what is possible or needed in north county. This will be a chance to meet others sharing your interests or ideas.
"All Ideas will be recorded and included in the minutes of each group," he said. "Everyone is important in these discussions."
A noon break for a soup and salad lunch is planned followed by a second session from 12:30-2:30 pm.
In the afternoon sessions we will work to develop strategies for implementing the ideas developed from the morning Round Table.
Each group will summarize their groups' work at the end of the Round Table from 2:30-3 pm.
"We will make plans for the next meetings of each working group in this continuing process of development," he said. "If you want to start your new business this is a process you should participate in."
More like this story
Latest stories
Latest video: