Thursday, September 3, 2015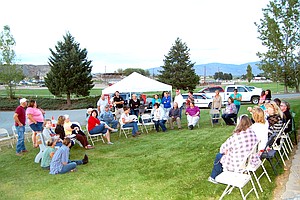 OKANOGAN – The Okanogan County Fair Advisory Committee will advise Okanogan County commissioners to allow the fair to take place Sept. 24-27 at the fairgrounds, 175 Rodeo Trail Road.
The committee came to the agreement to move the date of the fair by three weeks after a nearly two-hour special advisory committee meeting tonight.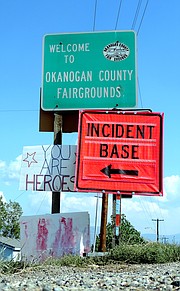 The group will present their proposed date change to commissioners - who could ratify the recommendation or come up with their own decision- when they meet in special session at 11 a.m. tomorrow in the commissioners' hearing room of the Grainger Administration Building, 123 N. Fifth Ave.
County commissioners agreed late last week to allow a Type 1 (highest) incident management team to use the fairgrounds as a fire camp, for up to 4,500 fire personnel, for 14 days.
Okanogan County Emergency Manager Maurice Goodall said if the county asks the team to relocate the county would loose the team, which is battling blazes in the western part of the county and Chelan area.
Another Type 1 team is stationed at East Side Park in Omak and working to contain the Tunk Block and North Star fires burning in northeastern Okanogan County and the Colville Indian Reservation.
"They're (firefighters) still here," Goodall said Thursday night. "This is a fire that's all over the county. There's still several places actively burning," within the area.
Read the full story in Sunday's edition of The Omak-Okanogan County Chronicle.
More like this story
Latest stories
Latest video: