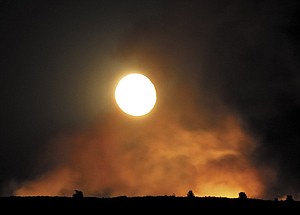 OMAK — Fire crews scrambled late yesterday and early today to keep two new fires at bay.
Last night's fire was reported about 8:03 p.m. along state Highway 155, near Rondeau Road, five miles south of Omak on the Colville Indian Reservation.
The fire jumped the highway, prompting state Department of Transportation officials to temporarily close the primary route between Omak and Nespelem. The road was reopened at 11:20 p.m.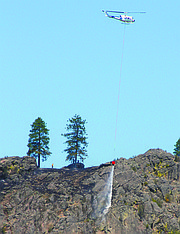 Colville Tribal fire officials have yet to say what sparked the blaze, how many acres it destroyed and whether any homes or other buildings were damaged.
A second fire ignited about 10 a.m. this morning on Dickson Hill, just north of Riverside.
Fire crews called in two helicopters to help quell the blaze on the rocky hillside between Pharr Road and Hubbard Road. One helicopter drew water from the Okanogan River near the Keystone Road turnoff; the other picked up water from the Booher Lake along state Highway 97.
The fire was contained quickly.
Meanwhile, fire crews are continuing to battle several wildfires around Eastern Washington, including the 21-Mile Grade Fire in Ferry County.
That blaze is burning on the Colville Reservation, about midway between the towns of Keller and Republic. More than 2,000 acres have already burned.
Another fire in nearby Stevens County has grown to between 250 and 500 acres and is 0 percent contained.
The Williams Creek Fire is just north of Colville;
State Lands Commissioner Peter Goldmark said the state is pulling out all the stops to halt fires this year before they can grow into another catastrophic fire like last year's Carlton Complex wildfire, which charred 256,108 acres in Okanogan County.
"We have two Washington National Guard Blackhawk helicopters, our DNR (Department of Natural Resources) helicopters and qualified contract fire bosses also working full-out," he said this morning. "I fear the consequences if we see more wildfires break out this afternoon and evening."

Gov. Jay Inslee authorized use of National Guard equipment and crews on June 26.
More like this story
Latest stories
Latest video: