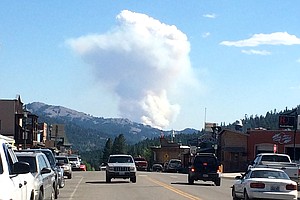 REPUBLIC — A wildfire that began late yesterday north of Keller has razed between 300-600 acres and is threatening structures.
According to the Mount Tolman Fire Center, the Twenty-One Mile Grade fire is burning about four miles north of the Devil's Elbow Complex fire that burned last summer.
As of late last night, three homes were threatened and another had been evacuated. Details on whether they survived the blaze or not was not immediately available.
The Center said the initial suppression efforts included building dozer lines and using existing roads to help contain the fire. A helicopter and winged aircraft have been helpful in cooling hotspots to allow ground forces time to engage.
"On the ground, firefighters are dealing with limited access, extremely steep and rocky slopes which inhibit dozer line construction and heavy slash from a windstorm that affected the area 3 years ago," a press release from the center said.
Yesterday, about 70 firefighters were assigned to the blaze.
Today, fire crews will continue to battle the blaze. But with hot temperatures, low humidity and gusty winds of up to 25 mph, they will have their hands full, officials said.
Motorists traveling through the area are encouraged to use extreme caution as there is the possibility of smoke and fire near the highway, officials said.
The blaze is primarily consuming timber, grass, sage brush, bitter brush and pine litter, officials said.
More like this story
Latest stories
Latest video: