Wednesday, January 21, 2015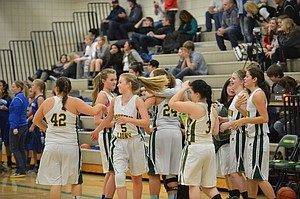 WINTHROP — Liberty Bell High School basketball teams edged visiting Tonasket on Tuesday.
The Mountain Lion girls played lockdown defense the final two minutes, hanging on for a 33-32 win.
Liberty Bell boys exchanged baskets with the Tigers before winning 54-50.
Thursday games include a matchup between state No. 1 ranked girls basketball teams.
The Okanogan girls team, No. 1 in 2B, is at Cashmere, No. 1 in 1A, and Lake Roosevelt is at Liberty Bell on Thursday.
Friday games include Omak at Chelan, Thorp-Easton at Pateros, Tonasket at Brewster, Liberty Bell at Oroville, Bridgeport at Lake Roosevelt, Columbia at Curlew and Republic at Wellpinit.
Tuesday results
Girls
Brewster 32, Manson 26
Cashmere 58, Omak 37
Lake Roosevelt 44, Oroville 37
Liberty Bell 33, Tonasket 32
Okanogan 78, Bridgeport 16
Pateros 53, Wilson Creek 6
Boys
Brewster 53, Manson 27
Cashmere 85, Omak 47
Inchelium 70, Cusick 68
Lake Roosevelt 71, Oroville 55
Liberty Bell 54, Tonasket 50
Okanogan 73, Bridgeport 49
Pateros 60, Wilson Creek 40
More like this story
Latest stories
Latest video: