Tuesday, February 10, 2015
OKANOGAN — Although the groundhog said to expect six more weeks of winter, locals in Okanogan and Ferry Counties are facing a more-than-early spring.
The Washington State Patrol and state Department of Transportation responded to a minor debris flow over state Highway 153 on Monday morning near Pateros.
A Transportation spokesman said debris, including, mud and rocks flowed over the roadway but, "it wasn't that big of a deal."
Over the weekend, the National Weather Service issued several flood watches and warnings for North-Central Washington including Okanogan, Ferry and Chelan Counties.
Saturday, rural roads near Riverside had some standing water, with dirt and gravel being washed away.
A warm front that rolled into the region late last week also prompted the cancelation of what was to be the fourth annual Bonaparte Lake Snow Drags snowmobile races near Wauconda.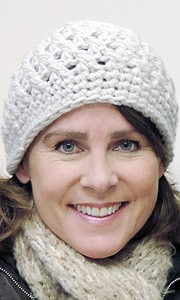 "For safety reasons we have to cancel," spokeswoman Bridgette Sterling said. "I hate to even say it but I think our spring may have come early." Sterling said three days prior to the event a blizzard rolled over the area resulting in "a lot" of snow. "Then all of a sudden, boom. It changed overnight."
With 6 inches of standing water on top of the lake, "It just destroyed the lake and the track," she said.
Word of the cancelation came at the heels of an early Friday morning mudslide two-miles east of Republic.
The state patrol reported a mudslide temporary blocked a portion of state Highway 21, between Republic and Keller.
The state Department of Transportation responded with a tractor and clear the roadway. The road was re-opened within less than an hour.
According to the National Weather Service, water was reported on state Highway 21 again, at 11 p.m. Friday near Milepost 134.
Further east in Pend Oreille County, mudslides have been reoccurring since Friday, the Washington State Patrol reported.
The National Weather Service office in Spokane said the wet Pacific storm front will likely pass bring colder weather into the first part of next week.
According to a statement released by the agency Tuesday morning, the last in the current series of wet Pacific storm series is expected to move into the region Wednesday.
"Regional satellite and radar indicate a final wave of moisture moving into the basin off the Cascades," a statement from the service said.
The service said cooler weather is expected into the first part of next week.
More like this story
Latest stories
Latest video: