Wednesday, September 17, 2014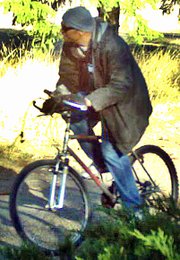 ALMIRA — The Lincoln County Sheriff's Office is looking for information on a man sought in connection with the recent burglary of a home off of state Highway 174, about eight miles north of town.
The highway connects Almira to Grand Coulee.
Chief Criminal Deputy Brian Telford said the burglary remains under investigation, but that many items were taken.
Nobody was home at the time of the burglary, he said, noting that it occurred within "the last 10 days."
The Sheriff's Office has released a photo of the suspect captured by a surveillance camera during the burglary.
Since Almira is close to the Grant County line, it's possible the suspect lives in Grant County, authorities said.
Anyone with information about the suspect should call the Lincoln County Sheriff's Office at 509-725-3501.
More like this story
Latest stories
Latest video: