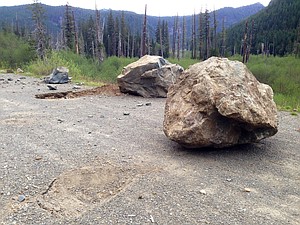 MOUNT RAINIER — Boulders plummeting from Mount Wow onto Westside Road have created craters and prompted Mount Rainier National Park officials to close the popular route in the southwest area of the park.
Westside Road will remain closed until the area is deemed safe and park crews can remove the boulders and repair the road, officials said.
The boulders created large craters, with at least one eight feet wide and three feet deep, officials said, noting a vehicle was destroyed and other amenities damaged.
According to park officials, workers returning from a multi-night monitoring trip found the boulders Thursday near the Dry Creek public parking area.

A private vehicle parked there was destroyed when one of the boulders apparently hit it on the driver's side, damaging the vehicle and pushing it nearly over the edge of the roadway, officials said. It was unoccupied when workers discovered it.
Numerous boulders — one larger than a truck — were strewn over the parking area and road, officials said. Some of the boulders hit the road and continued moving until coming to rest in the bed of Tahoma Creek.

In addition to the damage caused to the private vehicle, a park gate and welded steel rock separation box were damaged, officials said.

The park's geomorphologist and his crew are assessing the cause and the likelihood of additional rockfalls from Mount Wow, which towers above the road, officials said.
Latest stories
Latest video: