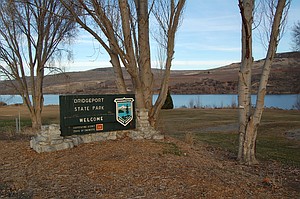 BRIDGEPORT — Washington State Parks turns 101 years old tomorrow and visitors are being encouraged to celebrate by getting out to enjoy a state park for free.
Visitors won't need a Discover Pass to access the parks tomorrow.
State lands accessible free to visitors tomorrow include Conconully, Bridgeport, Beebe Bridge, Chelan, Curlew Lake, Steamboat Rock and others.
Statewide, the agency manages more than 100 parks.
Tomorrow is the third of 12 "free" days planned for this year.
"We're hoping that you'll get out on Wednesday to a state park in your area and just remind yourself of the treasures we have in our state," State Parks Commission Chairwoman Lucinda Whaley of Spokane said.
"The State Parks free days give people a chance to sample some of the beauty of the park system – and then we hope you'll support your state park system and buy your Discover Pass. Revenues from the pass are very important because they allow us to keep operating parks and services."
Remaining free days this year are:
2014 State Parks free days are as follows:
• April 19
• April 22
• May 11
• June 7 and 8
• June 14
• Aug. 25
• Sept. 27
• Nov. 11
More like this story
Latest stories
Latest video: