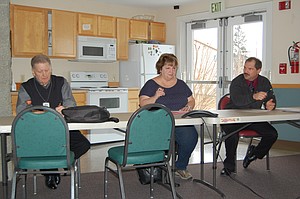 BREWSTER — After a 20-minute executive session yesterday morning, Three Rivers Hospital commissioners announced they will schedule telephone interviews with four semifinalists for its CEO position.
The interviews will start at 7 a.m. March 11 in the Hillcrest administration building, 415 Hospital Way. Although questions will be only asked by the board members, the interviews are open to the public.
The board is still declining to release the candidates' names, instead referring to them by initials: E, S, L and D.
Board Chairwoman Vicki Orford said they may release the names of the top two or three finalists after the interviews, if the candidates are comfortable with it.
However, the next step after the telephone interviews is face-to-face interviews with the finalists, which will be done publicly.
The special meeting was a step back for the commissioners, who had already tried to narrow the list of 26 candidates to five last month out of a public meeting. In doing so, they violated the state Open Public Meetings Act.
After The Chronicle raised concerns about the process, hospital officials spoke with the state Attorney General's Office and their own attorney, Edward Turner of the Spokane-based Stamper Rubens law firm.
The hospital last week stepped back and winnowed the field of candidates in a public process in compliance with the law.
The new CEO will replace O.E. "Bud" Hufnagel, whose resignation is effective April 30. Hufnagel was hired in September 2011 to help the hospital turn around its financial troubles, but stated in his resignation letter at the end of last year that he and the board weren't seeing eye-to-eye on how to do that.
More like this story
Latest stories
Latest video: