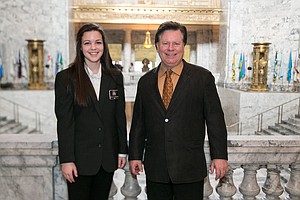 OLYMPIA — Keeley Bosman, a student at The River Academy in Wenatchee, served as a legislative page for the state House of Representatives during the sixth week of session.
She was sponsored by 12th Legislative District Rep. Cary Condotta of East Weantchee. The district also covers a portion of Okanogan County.
"It was great to have Keeley help us out during session," Condotta said. "I hope she enjoyed her time here and will be able to return to her school and tell other students about what she learned in Olympia."
During her service, Keeley experienced the Legislature first-hand and delivered messages and documents to legislators during committee meetings, to their offices and in the House chamber. She also attended page school, where a certified instructor teaches students about the legislative process.
As a page, Keeley also took part in mock committee and floor debates. She sponsored a bill that would require teachers to be certified in first aid.
Each year students from around the state apply to become a page. While the available positions for the current sessions are now full, interested students should apply in the fall to be considered for the 2015 legislative session.
Applicants must have a legislative sponsor and be between the ages of 14 and 16. Additionally, pages are required to obtain written permission from their parents and school. Pages are paid $35 a day during their service.
More like this story
Latest stories
Latest video: