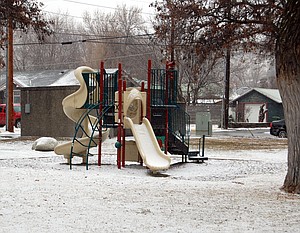 OMAK — The National Weather Service has issued a hazardous weather outlook for most of Okanogan and Ferry counties.
"A warm front will bring a chance of minor snow accumulations this morning, with the potential for a wintry mix of precipitation as snow transitions to rain," the advisory said. "Sleet and freezing rain are possible."
The advisory also covers the Grand Coulee area and Waterville Plateau.
By tomorrow, snowfall is predicted to turn to rain as the temperature rises, the advisory said.
"Wet weather is likely to persist through much of the week, with most of the snow occurring over the highest mountains," the advisory said.
With rain expected to melt snow, meteorologists are predicting the possibility of lowland flooding.
The change in temperatures will coincide with the end of a winter storm warning for the North Cascades, including the Methow Valley.
That warning expires at 4 p.m. today.
From 1-4 inches of snow was expected on the valley floor, with 4-9 inches higher in the mountains.
More like this story
Latest stories
Latest video: