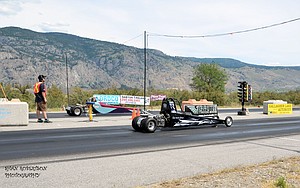 OSOYOOS, B.C. — Fast times, a raffle and helicopter rides highlighted the Wine Country Racing Association's eighth-mile drag races Sunday.
George Anthony of Osoyoos was the fastest off the line, cutting a perfect light of .500 seconds in his 1983 Ford Mustang
Ernie Bartelson of Oroville in a 1951 Chevrolet took first in super pro by topping David Sabyan of Oliver, B.C., in a 1978 Monte Carlo.
The races, which drew 47 cars and created 216 runs, were the second of five this summer at the track located west of town at the airport.
"A 50/50 draw netted its winner almost $400," spokewoman Shana Cachola said. "Okanagan Mountain Helicopters made a showing, topping the fans' experience off by offering helicopter rides."
The final race this spring is June 22, with gates opening at 9 a.m.
"Any drivers interested in running their vehicles need to show up early to register and pass through safety inspection," Cachola said.
Racing begins at 11 a.m. and culminates with the final, elimination event beginning at 1 p.m.
"Spectators are welcome to bring lawn chairs or fill the grandstands to cheer the racers on," Cachola said. "There will be concessions on site, a 50/50 draw and more."
There is an admission, with those under age 12 admitted free when accompanied by an adult.
"Remember, this event is a family-friendly, drug and alcohol free get together," Cachola said.
Results
Sportsman bracket - Andy Kusch of Grand Forks, BC (Red 1967 Buick) defeated Tim Hiebert of Osoyoos (Black 1990 Ford Mustang) .
Warrior Heads up Racing - Jorge Madrigal of Garibaldi, BC (Blue 1997 Dodge Viper) defeated Adam Brown of Summerland, BC (Silver 2002 Subaru) .
Pro Bracket - Doug Blatchford of Oliver, BC (Red 1969 Chevelle) defeated Shana Cachola of Oliver, BC (Hot Pink 1972 Chevy Nova).
Super Pro - Ernie Bartelson of Oroville, WA (Black 51 Chevrolet) defeated David Sabyan of Oliver, BC (1978 Monte Carlo).
Bike/Sled - Stuart Eckey of Osoyoos, BC (Red & Black 2001 Honda Motorcycle) defeated Duane Hamm of Oliver, BC (Orange 2009 Suzuki Motorcycle).
Junior Dragster - Ashley Clark of Sicamous, BC (Black 2003 Jr. Dragster) defeated Jordyn Lombardi of Houston, BC (Blue & Red Jr. Dragster).
Photo Credit: Shannon Robertson
Possible cutline: Wine Country Racing Association had two Jr. Dragsters at last Sunday's race. 10 year-old Ashley Clark (Sicamous, BC) and 11 year-old Jordyn Lombardi (Houston, BC) are traveling at approximately 75 miles/hour when they reach the finish line.
More like this story
Latest stories
Latest video: