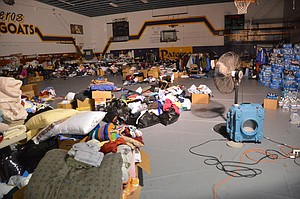 PATEROS — Community volunteers — in association with various charities, private donors, local businesses and government emergency response agencies — are opening a more permanent disaster relief center.
The new center at 169 Pateros Mall will be a distribution site for the large volumes of donated fire relief-items including food, clothing, household supplies, baby items and so forth.
"We needed a new distribution location so we could relieve the school," volunteer Heather Carrington said.
Items previously distributed at Pateros High School, Brewster Recreation Center, Okanogan County Fairgrounds Agriplex and Omak Community Center will all be distributed from the vacant building that previously housed a grocery store.
The new site should be fully functional within days, spokesman Jon Wyss said.
Some have suggested a multi-agency resource center also be invited to use part of the new space to provide other resources and support to fire victims.
Staffing for the new Pateros distribution facility has not yet been announced, Wyss said.
"Our communities have worked well together to sort and inventory donations so they can be handled like a wholesale and retail distribution center," Carrington said. "We are in this for the long run and have planned for these supplies to be distributed for as long as the fire victims need them."
Latest stories
Latest video: