Thursday, January 30, 2014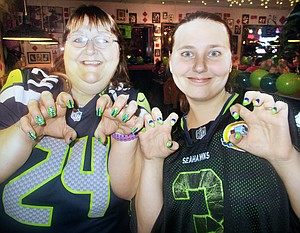 OMAK — More than 60 people turned out Wednesday night at Hometown Pizza for the Seahawks Rally in support of the football team as it prepares for Super Bowl XLVIII.
"The pizza is delicious and I'm a big time Hawks fan," Sierra Fain said. "Go Hawks!"
In their second Super Bowl appearance, the Seahawks face the Denver Broncos at 3:30 p.m. PST Sunday.
The pizza parlor at 738 E. Riverside Drive was decked out in blue and green, with multiple Seahawks signs and balloons on the walls. Fans showed up in Seahawks championship T-shirts and jerseys of their favorite players.
At a table near Fain, 95-year-old Alice Stubner called the pep rally a "great" event.
"I've been a fan ever since the Seahawks started years ago," she said.
Over the years, her favorite Seattle players have been quarterbacks Jim Zorn and Matt Hasselbeck.
Not anymore. Now, it's quarterback Russell Wilson.
"He is young and he isn't a smartalek," she said.
Fain, Stubner and other fans at the rally – organized by Crystal Newport, Angie and Ashley Kaufmann, and restaurant owner Dave DesJardins – said they have plans for watching the big game Sunday.
Pick up a copy of the upcoming joint edition of The Chronicle-Wenatchee World on Sunday.
More like this story
Latest stories
Latest video: