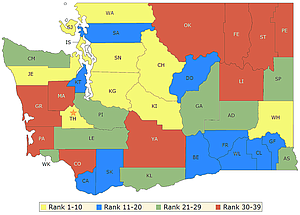 OMAK — Okanogan and Ferry counties have the lowest 2013 rankings, respectively, for cases of Chlamydia.
According to state health statistics released earlier this week, Okanogan ranked 38th out of the state's 39 counties for the sexually transmitted disease rate last year. Ferry County was 39th.
Meanwhile, nearby Chelan and Douglas counties were near the top of the rankings for the disease.
State figures show Chelan ranked eighth in the state and Douglas ranked 13th.
Kittitas County - which includes Ellensburg, Cle Elum and Central Washington University - had the highest rate of Chlamyda in the state.
Health officials said sexually transmitted diseases can cause health problems including pelvic pain, inability to get pregnant, complications for the newborn of an infected mother and problems urinating.
More like this story
Latest stories
Latest video: