Tuesday, January 21, 2014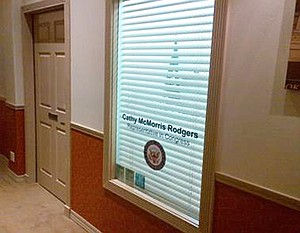 WALLA WALLA — Fifth Congressional District Rep. Cathy McMorris Rodgers today opened a new office to serve her Walla Walla-area constituents.
"We are thrilled to announce the grand opening of our new Walla Walla office," McMorris Rodgers said of the new location at 26 E. Main St., Suite 2. "While we have had an office in Walla Walla for many years, we're excited to welcome everyone in the community to our new office location.
"I invite everyone to stop by, share their opinions, and let us know what we can do to help."

The Walla Walla district office is managed by Deputy District Director Cathy Schaeffer, who can be contacted at 509-529-9358.

In addition to the Walla Walla office, McMorris Rodgers has offices in Spokane and Colville.
The 5th Congressional District also includes Ferry and part of Okanogan counties.
More like this story
Latest stories
Latest video: