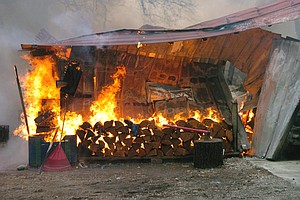 RIVERSIDE — Firefighters from Riverside and Omak battled a blaze that destroyed a barn Friday near milepost 299 on U.S. Highway 97.
A truck in the barn also was damaged.
Details about the fire's cause aren't yet available. The fire was reported shortly before 1 p.m.
Firefighters were still on the scene after 2 p.m.
LifeLine Ambulance also responded.
For a more detailed story on the fire, see the Jan. 22 print and e-editions of The Chronicle.
More like this story
Latest stories
Latest video: