Thursday, January 16, 2014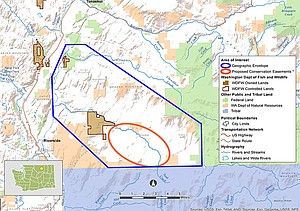 RIVERSIDE — The state Department of Fish and Wildlife wants to hear from you this month on its plans to acquire thousands of acres of land.
The state is seeking conservation easements for a large portion of Tunk Valley, It also wants to buy the 20,500-acre "Grand Coulee Ranch" and obtain rights to lands in the Kettle River corridor.
Those are just three of the 13 acquisitions and easements projects for which the state is seeking comments, which are due by Jan. 31.
Fish and Wildlife officials cite a need to protect these rural locations from development as the main reason behind their acquisition efforts.
According to agency documents, the Tunk Valley project calls for acquiring conservation easements on 2,200 acres of working ranch land.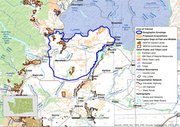 The agency is also calling for the outright purchase of the entire Grand Coulee Ranch, including 2,100 acres this year, documents show. And in the Kettle River valley, the agency wants to acquire control of 728 acres through a combination of purchases and conservation easements.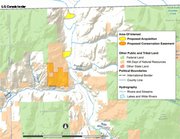 Documents related to the projects and released to the media so far do not show the exact locations of the purchases and easements or the cost to taxpayers.
"Our first responsibility is to safeguard the future of fish and wildlife in this state," agency Lands Manager Clay Sprague said. "With suitable habitat for many species in decline, land acquisitions are one tool we have to meet that responsibility."
The agency's continued land acquisition efforts, particularly in Okanogan County, have come under fire in recent years from ranchers, farmers and local officials.
Faced with that pressure, agency Assistant Director Joe Stohr said in September 2012 that Fish and Wildlife would halt any future land acquisitions in Okanogan County.
Three months later, the agency reneged on that pledge and purchased land along the Methow River.
State Fish and Wildlife Commissioner Jack Kehne of Omak was the only board member to oppose the agency's acquisition.
The nine member Fish and Wildlife Commission oversees the agency.
More information on the proposed acquisitions statewide can be found online here.
"The webpage offers an opportunity to take a 'virtual tour' of our land-acquisition proposals, which we will be presenting at the state's annual Land Acquisition Coordinating Forum in March," Sprague said.
After review of the projects, comments on the proposed acquisitions can be sent via email to lands@dfw.wa.gov or by mail to Lauri Vigue, Washington Department of Fish and Wildlife, 600 Capitol Way N., Olympia, WA 98501-1091.
Comments will be provided to commissioners for review prior to any decision on the proposed projects.
More like this story
Latest stories
Latest video: