Wednesday, January 8, 2014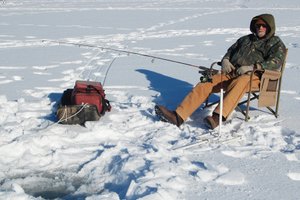 MOLSON — The annual ice fishing festival is on.
"Fishing is looking better at Sidley Lake this year and reports are folks are ice fishing and catching fish and the water quality is better," Oroville Chamber of Commerce President Clyde Andrews said Wednesday."
Registration for the fishing derby opens at 7 a.m. and the ice opens at 8 a.m.
"Fishing is looking better at Sidley Lake this year..."
Andrews email announcement about the festival, which takes place Feb. 15, follows rumors of the event's demise.
Those rumors stem from unsuccessful fishing the past three years - no fish were caught.
"Seems rumors abound and it is time to dispel some of them," he said.
According to Andrews, Fletcher Mountain fisherman James Iler has fished the lake four times this winter and "limited" each time.
The Oroville Chamber of Commerce is organiziing the event and is being assisted by Robin Stice of Eden Valley Guest Ranch and Larry Smith of Oroville Senior Center.
Proceeds from the event help pay for the cost of maintenance and operation of the lake's aerator and the Oroville Visitor Center.
In addition to the fishing tournament, Mary Lou Kriner of Mary Lou's Gifts is organizing an arts and crafts fair inside Molson Grange.
Rev. Gary Forgey is also organizing a dog sled demonstration, snow permitting.
A pancake breakfast is planned in the grange hall from 7-10 a.m.