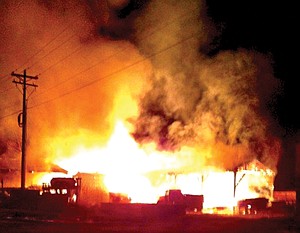 OROVILLE — An early Thursday morning fire caused extensive damage to Zosel Lumber Co. sawmill.
Firefighters were called at 6:34 a.m. to the mill at 1 14th Ave. and found the sawmill building fully engulfed in flames, Fire Chief Rod Noel said Thursday. The adjacent chipper facility was saved.
Noel said the fire began in an air compressor at the sawmill at the south end of the facility.
No dollar estimate was available, nor was information on whether the facility was insured.
The mill's owners could not be contacted for comment.
More like this story
Latest stories
Latest video: