Originally published February 25, 2014 at 04:22p.m., updated February 28, 2014 at 10:19a.m.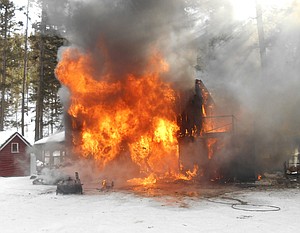 BONAPARTE LAKE — Fundraising efforts are under way to help a local couple whose home was destroyed in a fire Friday afternoon.
Halla Fuhrman and Joe Dunkin lost their apartment, belongings and lab mix dog, Ruger, in the blaze that destroyed three buildings at Bonaparte Lake Resort northwest of Wauconda. Her parents, Heather and Eric Cruz, and grandparents, Dave and Sandy Anderson, own the resort.
The fire was reported at 10:33 a.m., and apparently started in a wood stove, Heather Cruz said.
The blaze leveled a shop, garage and out-building at the resort, 615 Bonaparte Lake Road, including one where Fuhrman and Dunkin's apartment was. The main resort building/restaurant was not damaged.
Neighbors fought the blaze with a garden hose. The resort is not in a fire district.
Cruz said her daughter and son-in-law were left with just the clothes they were wearing, so any help is appreciated. They're looking for a place to rent.
A fund has been opened at the Tonasket branch of U.S. Bank, 409 Whitcomb Ave., and a page created on gofundme.com to help Fuhrman and Dunkin.
As of Tuesday afternoon, the website had garnered $3,250 in donations.
More like this story
Latest stories
Latest video: