Monday, February 24, 2014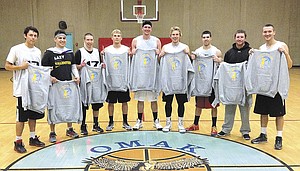 OMAK — Sunshine and Crew beat Team Coffey, 81-64, on Sunday to claim the men's basketball tournament championship at the Omak Community Center.
Blake Marchand was named the league's Most Valuable Player, organizer Sonny Sellars said.
League All-Stars include Josue Hernandez of Brewster Heat, Luis Talavera of the Warriors, Jerry Herrera and Jason Palmer of Miller Time, Swede Albert of the Tigers, Jeremiah Riggle, Jordan Starr and Gabe Aubertin of Sunshine and Crew and Kenny Miller of Team Coffey.
More like this story
Latest stories
Latest video: