Originally published February 20, 2014 at 02:20p.m., updated February 20, 2014 at 03:55p.m.
A Colville Business Council member resigned Tuesday in the wake of a Valentine's Day arrest for an alleged rape on the Coeur d'Alene Indian Reservation.
Ernest "Sneena" Bennie Brooks III, 40, also served as the tribal council's vice chairman.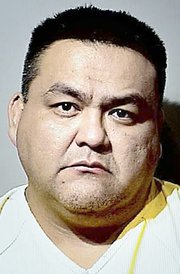 Kootenai County Sheriff's Office Lt. Stu Miller said Thursday that Brooks was "booked in on one count of rape."
Brooks cited "personal reasons" for his resignation, but the Kootenai County Jail also confirmed he had been booked into the facility Feb. 14 and released the same day.
"He posted a $5,000 bond the same day and was released," Miller said.
Brooks was allegedly was arrested at the Coeur d'Alene Casino by Coeur d'Alene Tribal Police.
Coeur d'Alene Reservation Prosecuting Attorney Paul Christensen declined to talk about Brooks' arrest because "the investigation is ongoing." Charges had not been filed as of Thursday.
An FBI spokesman also confirmed the arrest and cited an ongoing investigation without providing further detail.
Neither Brooks nor council Chairman Michael Finley could be reached for comment.
An emergency meeting of Omak District residents is at 6 tonight at the Senior Meal Site next to the Omak Community Center, 601 Benton St., to address the vacancy created by Brooks' resignation.
Under the tribal constitution, when there is a resignation the council shall declare the position vacant and appoint a member from the district to fill the unexpired term. Brooks' term runs until July 2015.
The council is scheduled to meet Friday to appoint a new council member.
Brooks was elected in 2011 and re-elected last year to a second two-year term.
More like this story
Latest stories
Latest video: