Wednesday, February 19, 2014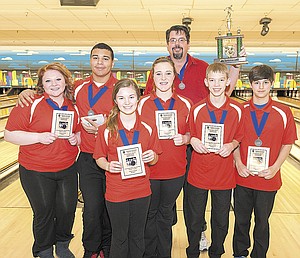 UNIVERSITY PLACE — The Omak bowling team finished third at the state high school tournament Feb. 14-16 at Narrows Plaza Bowl.
Omak, which entered the second day in fourth place, finished with 38 points, a point behind second-place Mountlake Terrace and a half point ahead of Wenatchee.
Oak Harbor won its fourth straight state crown that included a 907-point game, Dunckel said of division I play, where the teams with the highest averages competed.
Omak had the highest game at 922. No other teams broke 900.
Vanessa VanderWeide was high average girl at 192. Her score would have made her third highest boys bowler, the coach said.
Anthony Lewis was second highest boy with a 194 average.
More like this story
Latest stories
Latest video: