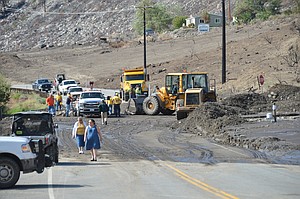 TWISP — Two state highways remain closed after a thunderstorm dumped rain on the Carlton Complex burn area and triggered flooding and mudslides.
State Highway 153 remains closed Friday morning between milepost 22 at Carlton and milepost 30 near Twisp. It was blocked Thursday night by several slides, the largest of which dumped debris five feet deep on a stretch of the highway south of town in the Beaver Creek area.
Washington State Patrol Trooper Darren Wright said several people were trapped in their vehicles and some structures were damaged. No injuries were reported.
A detour is available on Twisp-Carlton Road, Okanogan County Emergency Manager Scott Miller said.
The storm, which carried a flash flood warning – the most serious level, also damaged state Highway 20 in the Fraser Creek area, he said.
The highway is closed from milepost 204, at the junction with state Highway 153, to milepost 229 at the junction with Old Highway 97 near Okanogan. There is no detour.
"Fraser Creek overflowed and damaged Highway 20" just above Upper Beaver Creek, Miller said.
Electricity also was knocked out. The Okanogan County Public Utility District is working to restore power.
The storm also flooded the Carlton Complex fire camp on Twisp-Carlton Road, forcing evacuation. About 500 people are still assigned to the fires; around 100 are at the Eight Mile spike camp, which was not impacted by flooding.
"All personnel are accounted for and have been provided options for dry places to sleep," fire managers said.
The storm also moved over the Chiliwist, another area heavily impacted by the fire.
Miller said Chiliwist Creek washed across a field and at milepost 5 cut across the road, flooding it with four feet of water. The water headed eastward down the road before dumping across Old Highway 97.
Chiliwist Road was heavily damaged.
Initially, officials planned to evacuate residents, but then decided to have them stay put because the road had washed out. For a time, Miller and others were trapped when both the Chiliwist Road and North Star Road, which goes south to Brewster, were blocked.
They used a "Jeep trail" quality road through Olema and over Cook Mountain to reach state Highway 20 in the Pleasant Valley area, he said.
Later, Sheriff's Office personnel and local residents cleared North Star Road.
Chiliwist Road is washed out from milepost 1.89 to Old Highway 97, with gullies 20 feet deep in places, Miller said. Old Highway 97 was closed for a time from Malott to Monse River Road.
Telephone service to the Chiliwist is down.
The National Weather Service said 0.29 inch of rain fell in a six-hour period Thursday night at the Omak Municipal Airport. The storm, which was accompanied by high winds, hit the Carlton burn area harder, though no rain figures were immediately available.
A flood watch remains in place through 9 p.m. for the Methow Valley and parts of the western Okanogan Valley.
"Slow-moving showers and thunderstorms are expected to develop this afternoon and continue through early Friday evening," the Weather Service said. "Locally heavy rain will be a possibility in areas recently burned by wildfires."
The Carlton, Chiwaukum, Little Bridge Creek, Duncan, Mills Creek and Hansel burn scars, plus burned areas from 2012 and 2013, may be vulnerable if rain lingers over a spot burned clear of vegetation.
The storms are capable of producing more than a half-inch of rain in a short amount of time. Weather officials advise people in the watch area to remain alert to changing conditions.
More like this story
Latest stories
Latest video: