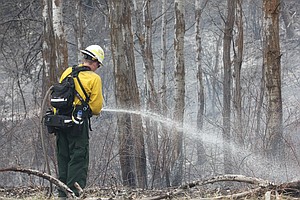 CRUMBACHER — The area's first wildfire of the year has prompted Okanogan County emergency management officials to close North Pine Creek Road.
The temporary closure is expected to last 24-48 hours, officials said, noting the road is closed 2 miles north of Fish Lake.
The wildfire has toppled trees, some of which now cross the roadway, officials said.
As of 1:30 p.m., officials said the flames have not damaged any structures and nobody has been injured.
Fish Lake is a popular location for trout fishermen during the opening of the lowland lake season, which starts April 26.
More like this story
Latest stories
Latest video: