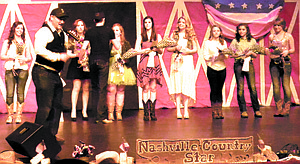 OMAK — Drew Jaeger relied on songs made popular by The Platters and Vince Gill en route to claiming his second straight Washington State Nashville Country Star title Saturday.
The Wenatchee High School senior — the only boy among the 13 contestants — is headed to the University of Wash-ington's music program next year.
Jaeger was crowned at the end of a three-hour program that saw him and Emily Stredwick in a tie after the first round of scoring, contest founder Ed Lisenbey told the audience.
Judges crunched numbers some more — and split a few hairs, Lisenbey said — to come up with Jaeger as the winner.
He took home $1,500.
Stredwick placed second and won $750.
Katelyn Hart, Gig Harbor, placed third, followed by Kaitee Carney of Toledo. They won $600 and $500, respectively.
Curlew had three singers in the finale, with senior Kianna Carpenter placing fifth and winning $400.
Samantha Bennett, a freshman from Graham Kapowsin High School in Western Washington, placed fourth and won $300.
The remainder of the field, winning $250 each, included Lexi Batman, Wenatchee; Taleigh Bockmann, Curlew; Jaimee Keenan, Curlew; Teo Lupu, Redmond; Mel Markel, Richland; Allison Porter, Redmond, and Rachel Woods, Sumner.
Brock Hires, a former competitor from Tonasket, was master of ceremonies.
More like this story
Latest stories
Latest video: