Wednesday, September 25, 2013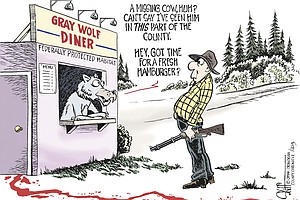 Schools deliver value to taxpayers
The purpose of this letter is to respond to your Our View editorial in the Sept. 18, 2013 edition of The Chronicle, in which you state Okanogan County student test scores reflect students who are not learning and taxpayers who are not getting their money's worth.
State-mandated student tests are given each year at certain grade levels to help teachers, students and parents determine whether or not student learning is on track to pass state-required tests for graduation from high school. If students are scoring low at one grade level in one particular subject area, for instance, then staff needs to make appropriate adjustments to help students learn what is necessary to pass the state-required test for graduation.
Student tests given at a certain grade level for certain subjects were not designed to show if the student has "good" teachers or "bad" teachers, or if a student goes to a "good" school or a "bad" school. These tests were designed for one purpose: To help teachers make adjustments so their students will pass the graduation test by the time they are seniors. And the test works great when used appropriately! Since 2009, when Washington State first required students to pass state tests in order to graduate, only one student out of 258 Okanogan seniors did not pass the required test for graduation.
I do believe any time a whole grade level of seniors pass four subject areas (reading, writing, math and science) at a 99 percent success rate, then teachers are teaching, students are learning and taxpayers are receiving dividends on their investments. No one should expect anything less.
Richard Johnson
Okanogan
Kindness brightens day for driver
I stopped by The Chronicle today (Sept. 16) to run an errand. As I headed out of the parking lot to turn left, the one-way construction traffic was moving in the opposite direction — and there was a lot of it!
So I turned on my blinker and waited. Much to my surprise and delight, four different cars stopped to offer me a spot in front of them. I pointed to show I wanted to go in the opposite direction, smiled and waved them on. They all waved back and continued on their way.
It struck me that so many people would behave with such kindness and good manners in that setting. Usually in construction zones there's much impatience and road rage. Those four random cars used a small act of kindness to add a smile to my face and brighten my day.
Lisa Bauer
Okanogan
Smith tours schools for sake of election
This letter is in response to Sen. John Smith conducting a "whirlwind" tour of the school districts in the 7th District to acquaint himself with all the superintendents. I'm a school board director and I already know the senator's views on public schools. He would like to get rid of all public schools and have everyone provide schooling at home. That is what he has always done with his children.
John Smith is not a supporter of public schools or public education. That's why I'm supporting Brian Dansel for state senator. Brian is supported and endorsed by the Washington Education Association and for good reason. John has never allowed his children to attend public schools and I suggest the next time you see him, you ask him yourself.
John's recent "whirlwind" tour is for politics only since this is an election year. He is appointed, not elected, and he does not have public schools on his agenda. Please vote for Brian Dansel.
Mike Brunson
Springdale
Letters to the editor policy
The Chronicle accepts letters to the editor of 250 words or less. Letters must bear the signature and hometown of the writer and a daytime telephone number. Letters may not include personal attacks or thank you messages. Letters are subject to editing.
Letters may be mailed to The Omak-Okanogan County Chronicle, Attn. : Letters to the Editor, P.O. Box 553, Omak, WA 98841; dropped off at 618 Okoma Drive, Omak; faxed to 509-826-5819, or emailed to news@omak chronicle.com.
More like this story
Latest stories
Latest video: