Wednesday, September 25, 2013
The inaugural Bouncin' for Boobies coed softball tournament, already with 15 teams, remains open until today for additional teams to play Oct. 5-6 at The Plex, 93 Rodeo Trail Road.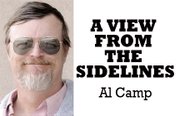 Bouncin' for Boobies softball replaces the Chloe Peterson tournament competed the last four years. The tournament for Peterson, 9, raised money for Peterson's disease, atypical hemolytic uremic syndrome.
"We will be accepting team registrations through Sept. 25," spokeswoman Lynn Hoover said.
Those wanting to participate can reach Hoover at 509-322-0261 or Jen Palmer at 509-846-9817.
Prizes will be awarded for the best team and individual costume or uniforms.
There will be a homerun competition for men and women.
"You've done the hockey game, bowling and poker, now we're bringing you softball, boobie style," the tournament's poster said. "So, grab your gloves and those old bats and get ready for softball like you've never played before."
The tournament on three fields will include big ball innings, running backwards, do-it-over passes and passes to remove a player.
"All sorts of new and old shenanigans are planned for this year, so it's sure to be an incredibly fun time," Hoover said.
"Even non-players will enjoy coming down for concessions or to watch some crazy softball. Tournament shirts and sweatshirts will also be available for purchase at the tournament."
Money raised by the tournament will assist area women fighting breast cancer.
"So they can focus on healing," Hoover said.
The free fourth annual Mahogany and Merlot on Lake Chelan is planned for Oct. 4-6.
Hydroplanes will be showcased in a boat show, along with classic cars.
There will be hydroplane races, for both unlimited and inboards sanctioned by the American Power Boat Association, including 7 liter racers.
Also planned is an in-the-water boat show featuring more than 35 antique and classic pleasure boats from the 1920s to the 1960s built by Chris Craft, Gar Wood, Hacker, Yandt and Century at Lakeshore Marina at Don Morse Park, 619 W. Manson Highway.
New this year is a classic car show, with pre-1956 and Woodys from the Pacific Northwest Chapter of Classic Car Club of America.
Concessions will be available, including food by Kiwanis along with a wine and beer garden.
The Hydroplane and Raceboat Museum Store will be there along with vendors with antiques, wine barrel decor and event shirts.
Registration is 4-7 p.m. Friday.
On Saturday, there will be an antique and classic boat parade 9-9:45 a.m. The hydroplane exhibition, boat show at docks and food run 10 a.m. to 4 p.m.
On Sunday, the show continues 10 a.m. to 2 p.m.
Joseph MacLean may be taking a new position in western Washington, but his Jigilo Joes jigs will remain available in this region.
MacLean's last day at the Okanogan County Auditor's Office is this Thursday, Sept. 26.
He is taking an election position at the Secretary of State's office as the certification and training coordinator on Tuesday, Oct. 1.
"I will still be supplying all the local stores and trying to expand into new territory on the west side," MacLean said in a farewell email.
Riata Marchant, the 12-year-old daughter of Ryan Marchant and Shauna Beeman, is one of the youngest Pro-West Rodeo Association members to ever qualify to compete in the Women's Barrel Racing at its year-end finals.
The finals are Oct. 5-6 in Coeur d'Alene, Idaho.
I want to let the region's coaches know that if they think they have a top athlete, USA Today is looking for them.
The newspaper encourages athletes in all varsity sports to submit answers to the same questions in the "introducing" section and email the answers, along with a photo, to Suzanne Schwerer at sschwerer@usatoday.com.
Al Camp is the sports editor for The Chronicle. Email him at sports@omakchronicle.com.
More like this story
Latest stories
Latest video: