Wednesday, September 25, 2013
All businesses must change with the times. And The Chronicle is no exception.
Don't panic. You're still going to get the award-winning local news coverage, photographs and local advertising that you're accustomed to. And no, our print edition is not going away anytime soon. That said, we are in the final stages of upgrading our Internet presence. And I think you're going to enjoy the changes.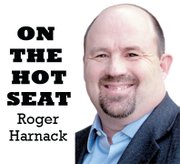 In the coming weeks and months, you'll see our website grow into a multi-media platform that supports audio and video news and advertising. But don't expect us to move to video news and commercials immediately — it'll take time to get our staff fully trained to make the most of the platform.
We're also going to have blogs, photos, news, advertising, community calendars and interactive opportunities.
And that's just the beginning.
For those of you that shop or place classifieds, our new "Bigfoot Ads" system is sure to please. You'll be able to shop classifieds from several of our newspapers, as well as sell your items in communities throughout Oregon, Washington and Idaho.
You'll have options for multiple full-color photos, more space to explain your item and the opportunity to have it published across the mobile, tablet, Internet and print platforms. Bigfoot Ads also allows you to place, proof and pay for your classified ad from the comfort of your home.
Along those same lines, we're also making it easier for funeral homes and families to place obituaries and death notices.
Don't like conducting business on the Web? That's OK. We'll still be handling these items at our office and over the telephone.
Businesses will be able to use our new system comfortably from their advertising offices as well.
Shortly after our new website goes live, we'll be adding a new marketplace feature. In short, our marketplace will allow us to develop websites for small businesses that currently aren't able to move merchandise on the Internet. The site will also allow for audio and video commercials, and is going to be much more mobile and tablet friendly that our existing platform.
For consumers, marketplace means the opportunity to find Web coupons, get directions to local businesses and check out any daily specials being offered.
We're still in the process of coming up with a good name for our soon-to-launch marketplace. So if you have any concise name suggestions identifying our entire business community — from the Cascades to the Columbia River and from Wells Dam north to the Canadian border — we'd love to hear from you.
These are big changes for a newspaper of our size. So, I'm sure their are going to be plenty of bugs to work out along the way. But I'm also sure the changes are going to be well worth it.
As our Web presence changes, I hope you'll let us know what we can do to improve your online experience.
Roger Harnack is the editor and publisher of The Chronicle. He can be reached at 509-826-1110 or via email at rharnack@omakchronicle.com.
More like this story
Latest stories
Latest video: