Wednesday, September 18, 2013
Dakotah Holt, a multi-sport athlete who graduated in 2011 from Lake Roosevelt High School, was electrocuted Aug. 29 in Kansas.
Holt, of Coulee Dam, and others were installing a new power pole in south central Kansas. A wind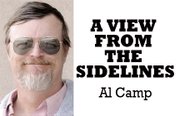 came up and twisted the pole from hooks on their boom truck, causing it to against a nearby power line, an online story by KWCH said.
Holt, 20, was an apprentice lineman. He was touching the pole when the other line energized it.
In the first wave of responders was Sheriff Justin Rugg of Barber County, who performed CPR until an ambulance arrived. Holt died later at a hospital.
In one of Holt's final baseball games, he struck out 8 in five innings and yielded only 2 hits in a 13-1 win in the first game of a doubleheader against Oroville on May 6, 2011.
In the second game, Holt was 2-3 with a double and triple.
"I had the pleasure to have him as both a student and an athlete," Holt's baseball coach, Brandon Byers, said. "He was a wonderful individual that would consistently want to be pushed both in the classroom and on the field because he always strove to better himself."
Byers said Holt was a leader on the team, doing whatever it took to win including laying down a bunt or changing position.
"These characteristics he showcased on the team, were the same ones I saw him use in everyday situations. In short, he was a remarkable young man that will be greatly missed by the Raider family."
Holt played his senior year on the basketball team, which reached the state 2B tournament, and was on the football team for at least two years. He was an all-league honorable mention last year as a defensive back.
As a sophomore, he ran cross country in the fall and was on the golf team in the spring.
Tyler Peasley of Omak won the Indian Relay bareback horse racing at the World-Famous Pendleton Round-Up Sept. 11-14 in Oregon.
Peasley competed on the Omak Express team, which won both of its heats and was first in a final race with the four best teams.
A dozen teams competed in heats Sept. 11 and 12.
The four best combined times after the heats competed in the finals, which included Peasley's Omak Express, Grizzly Mountain Express, Mountain Timber and White Calf teams.
During a race, a rider switches horses twice while traveling bareback three times around a track on different horses.
"I like the prestige of the horsemanship that comes with it when you win a race," said Peasley in an East Oregonian story.
Peasley has been competing in relays for 10 years.
In another heat, Oliver Pakootas of Omak on the Grizzly Mountain Express, led from start to finish despite his second horse not wanting to stand still during a switch.
Early reports for fall Chinook salmon find the best run in the past 75 years returning to the Columbia River.
Based on the latest forecast, 664,000 to 835,000 upriver bright adult Chinook are expected to return to the Columbia River this year, well above the record of 420,000 fish set in 1987.
On Sept. 7, more than 48,700 Chinook from a variety of upriver stocks crowded up the fish ladders at Bonneville Dam, setting a new daily record.
That record was broken two days later when 63,870 upriver Chinook moved past the dam, followed by 56,044 the next day.
"This will be a fishing season to remember," Norman said. "This year's run of upriver fall Chinook is through the roof, and a positive sign that regional efforts to rebuild this salmon population are making a difference.
"These new rules will increase fishing opportunity for anglers, while providing protection for the wild fish returning to the lower Columbia tributaries."
"This year's huge run is starting to show up in fisheries hundreds of miles upriver," said state fish biologist Joe Hymer.
Hymer noted that 92,000 fall Chinook have already crossed McNary Dam south of the Tri-Cities and 26,000 have been counted at Ice Harbor Dam on the Snake River.
"Fishing is still great" at the Conconully lakes, said Gene Bussell of Liar's Cove Resort. "We had three different groups of fishermen that caught their limit of rainbow's this weekend. Some were fishing in shallow water and some in deep water by the dam."
Bill and Helen Bradley of Marysville caught their limit using green Power Eggs, Bussell said.
"I wish I had pictures of all the fish that were caught this weekend. The water in both lakes is still high for this time of year, no algae yet and the water is clear."
Bass fishing has not been good the past week or so, and Bussell was not sure why.
"So we need some good bass fishermen to come up and show everybody how to catch bass," he said.
The Colville Tribes Youth Diversion Program is hosting a bingo night for youth and elders 4-6 p.m. Thursday, Sept. 26, at the Omak Meal Site, 601 S. Benton St.
The primary goal of the program is to work in partnership with tribal service programs, schools in Okanogan County, local elders and the Okanogan County juvenile courts to reduce recidivism rates
Brewster High School initially started the fall sports season without a cross-country team.
Soon, five runners were signed. That led to the team expanding to 13 by last week, Athletic Director Greg Austin said.
"We are doing our best to get a program started here at Brewster," Austin said.
Kelly Brown is the coach.
Al Camp is the sports editor for The Chronicle. Email him at sports@omakchronicle.com.
More like this story
Latest stories
Latest video: