Wednesday, September 18, 2013
Sometimes fact is stranger than fiction.
While law enforcement personnel probably see this more than any other career field, working in a newsroom might not be too far behind.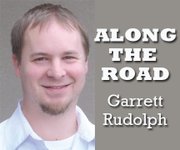 Despite — or perhaps because of — North-Central Washington's rural nature, it seems we see and hear a lot of these snippets of information that seem borrowed from the plot of some low-budget horror flick or flailing adolescent comedy.
But it didn't take an officer of the law or a journalist to catch the absurdity of a recent headline.
It seemed every online news source, both of the serious and wacky varieties, picked up on the Flight 666 to HEL.
Nothing adds a twist of the occult to routine daily occurrences quite like stamping it with the Mark of the Beast.
And for good measure, throw in the destination HEL — a much more devious way of describing Helsinki, Finland — and you've got the makings of a Creative Writing 101 class at a community college.
And if that alone doesn't sound like a film destined for a video store clearance rack, it was scheduled for Friday the 13th.
You can't make this kind of stuff up.
If you tried, nobody would believe it.
Online sites asked readers whether or not they'd even consider getting on board Flight 666 to HEL on Friday the 13th.
Answers varied across the board, but it's clear some take superstitions more serious than others.
Me, I'm not the superstitious type.
But for some, this odd coincidence of numbers and letters and days of the year created something far scarier than Clive Barker or Stephen King could ever conjure.
And for those superstitious few ... the pilot of Flight 666 did not in fact turn into a demon.
The runway did not open into an abyss of fire leading into the world's bowels.
Instead, the passengers were greeted by cool, temperate September weather when they arrived safely in Finland.
Garrett Rudolph is the managing editor of The Chronicle. He can be reached at 509-826-1110 or via email at grudolph@omakchronicle.com.
More like this story
Latest stories
Latest video: