Originally published September 11, 2013 at 04:42p.m., updated October 2, 2013 at 04:42p.m.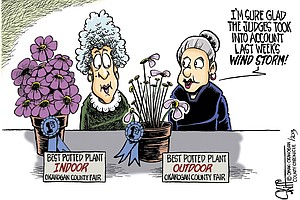 Stevens cattlemen support Dansel
Len McIrvin, Bill McIrvin and Justin Hendrick, Diamond M Ranch, along with Stevens County Cattlemen President Scott Nielsen, have all given their endorsement to senate candidate Brian Dansel.
These men, most directly affected by wolf predation, must not think John Smith was effective in handling the wolf issue. I'm inclined to agree.
John Smith sponsored S.B. 5193, creating money for the state Department of Fish and Wildlife via specialized license plates for wolf compensation. This bill, signed by the governor on May 21, will bring approximately $800,000 to WDFW by their estimates. Some of the money will be used to hire more "conflict management specialists" to essentially manage people and prescribe management for private property so it is more wolf friendly.
The bill caps compensation to any ranch/farm at $10,000 per year and states "the department may pay no more than $50,000 per fiscal year from the state wildlife account created in RCW 77.12.170 for claims and assessment costs for injury or loss of livestock caused by wolves submitted under RCW 77.36.100."
This limit on payout means ranches that suffer damages like Diamond M will be driven out of business. In essence, this bill did nothing but grow the size of state bureaucracy. It was also an agency-request bill, meaning Smith sponsored it because WDFW asked him to.
No 7th District legislator should ever agree to help a state agency receive more money. It's no wonder Stevens County Cattlemen support Brian Dansel. Please join me in voting for Brian Dansel this November.
Jae Hightower
Tonasket
Smith doesn't support schools
Take a moment to learn about John Smith and Brian Dansel, the candidates running for the State Senate in the 7th district. John Smith is our current appointed Senator.
Unfortunately, he seems determined to undercut existing support systems, like free and reduced school lunches, that seek to improve student learning. He claims that children are more motivated to learn if they're hungry.
Science suggests otherwise but Smith simply denies the evidence. Consider also the science surrounding the appropriate use of test data.
Standardized tests given to students to measure their achievement in particular subjects are not scientifically valid or reliable when used to evaluate teachers or schools. Despite this scientific fact, and even after having it explained to him, Smith once again chose to ignore the science and to support a bill that would grade all our state's schools based on students' standardized test scores.
The fact that these grades would utilize an inaccurate metric for judging schools was unimportant to him. Science itself is apparently unimportant to Smith.
The bottom line is that John Smith wants our public schools to be replaced with vastly expanded homeschooling, for-profit charter schools, and religious, private schools, all receiving public funding of course, and none of which would be locally governed by a school board.
Time is truly not on Sen. Smith's side. As voters find out the facts about John Smith, more and more of them are turning to Brian Dansel, a conservative Republican who also understands and values our public schools.
Andy James
Colville
Security made rodeo a safe event
In regards to this year's events and the security team at the Omak Stampede, I had the contract cleaning bathrooms and was very hesitant and a little scared to be by myself at night. I had one encounter with a woman yelling and cussing in front of a crowd of children Friday evening when a Christian band was singing and praying.
I called and in seconds Phoenix was there and had her under control. I have heard so many negative comments and agree maybe some were a little over the top. But I felt safe, as did many others.
We want to bring people into our town and much needed revenue to the many small businesses that count on Stampede to help them make it all year. I also see that when the storm hit they needed to get everyone out as fast as possible. It's a hard job to wrangle up a crowd that has been drinking and evacuate.
The bottom line: People outside of our community need to feel that it's safe to come with their families and enjoy the Stampede.
Gina Columbia
Omak
Letters to the editor policy
The Chronicle accepts letters to the editor of 250 words or less. Letters must bear the signature and hometown of the writer and a daytime telephone number.
Letters with multiple signatures or sent to multiple publications will not be considered. Letters may not include personal attacks or thank you messages. Letters are subject to editing. Publication does not imply agreement or endorsement by The Chronicle. Letters may be mailed to The Omak-Okanogan County Chronicle, Attn. : Letter to the Editor, P.O. Box 553, Omak, WA 98841; dropped off at The Chronicle office, 618 Okoma Drive, Omak; faxed to 509-826-5819, or emailed to news@omak chronicle.com.
More like this story
Latest stories
Latest video: