Wednesday, September 11, 2013
Two weeks ago, the Tonasket School Board stepped into the debate over whether to require community service to graduate.
The debate over that topic reached a local crescendo earlier this year during a candidate forum for political hopefuls seeking the 7th Legislative District senate seat. At the end of that event, Sen. John Smith, R-Colville, supported the move while Ferry County Commissioner Brian Dansel, R-Republic, vehemently opposed it.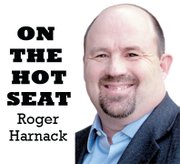 Many Tonasket-area residents attended the debate and subsequently gave their support to Dansel. That should've been enough for the Tonasket School Board to realize that many – if not most – residents are staunchly opposed to any effort to force their children in indentured servitude.
The Tonasket School Board, however, unanimously agreed Aug. 26 to give itself the power to require mandatory public service. Mandatory community service, really?
That's not why we send our children to a public school. We send our children to public schools to get a basic education.
Unfortunately, after looking at the state report cards for area schools, it would appear the expectation of a good education has taken a backseat in the board room.
According to the state Office of the Superintendent of Public Instruction's report card for the Tonasket School District, students are below state averages in every elementary and middle school academic category.
To be fair to Tonasket, the report card did note that 10th-graders appear to be doing better than last year's report card suggested. But requiring students to "work" on what will likely become pet projects for school employees won't improve their academic abilities.
The Tonasket School Board should be more concerned about giving students a proper education than following a directive from lobbyists orchestrating the Washington State School Directors Association. As I understand it, that's where the board got the language for mandating community service.
School officials say their policy is geared more toward creating an incentive program for students who volunteer to make their community better. But you cannot give them an incentive to be a volunteer and then order them to work without pay with the promise of being released at graduation.
Our nation got rid of indentured servitude decades ago. It's a shame to see it rising again.
Superintendent Paul Turner says the district "may" require community service. But we've all seen how school districts and other government agencies use that word to mask a mandate.
Take executive sessions, for example. Under state law, the word "may" is used to close the board room, city council and other doors on the public. Rarely do you see elected officials keep the doors open. Rarely do we hear of an elected official pointing they do not have to conceal discussions from the public.
I'm sorry, Tonasket School Board, but you're on the wrong track here.
Public schools are here to teach the basics – reading, writing and arithmetic. Values and ethics are something to be taught at home, by parents. Community service falls into the latter category for responsible parents.
Ty Olson got it right during the School Board debate, noting public service is something that should be encouraged.
And that's where any policy should end.
Roger Harnack is the editor and publisher of The Chronicle. He can be reached at 509-826-1110 or via e-mail at rharnack@omakchronicle.com.
More like this story
Latest stories
Latest video: