Wednesday, September 4, 2013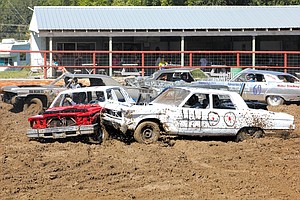 TONASKET — Nine demolition derby teams entered the Commenchero Rodeo Arena Sunday.
But when it was over, it was 23-year-old Jordan Montanye of Tonasket winning the main event and proclaiming victory.
After being declared the winner, Montanye climbed atop his vehicle to celebrate in front of several hundred fans.
"I didn't have reverse," he said. "I lost that in the third heat and just played it out."
The victory was the first main event Montanye has ever won, having participated the last eight years.
"I do it for the show, and to have fun," he said.
Montanye's win was a surprise ending to a day in which Robert Hallam and Jimmy Caveness claimed victory in the heat races.
Hallam, 20, of Okanogan, won the first heat, but damaged his coil and wouldn't return the rest of the day.
Caveness, 48, of Okanogan won the second and third heats.
"It takes watching, and a little bit of luck," he said of winning. "You pick your battles and keep a cool head."
After 12 years, the heat wins were for the first for Caveness in Tonasket.
His wife and copilot, Jude Caveness, said her husband competes for the "adrenaline rush."
In fact, she also drives a demolition derby car, as does her son, David Brown.
Brown, 26, of Omak was driving the No. 64 Ortuno Brothers car in the event.
Other drivers were Jake Taylor, 33, of Omak; Darryl Ortuno, 20, of Omak; Karl Isenberg, 35, of Oroville; and Ray Becker, 48, of Gold Bar.
In the ninth car, Brandon Weller, 32, and Keith Montanye, 32, both of Tonasket, took turns at the wheel of the No. 4400 vehicle.
Becker, a former resident of Aeneas Valley, said he enjoyed his trip home to the Tonasket area to compete in the derby.
"But I broke the left rear axle," he said. "It's still fun. It cost 200 bucks just to come and play."
In addition to the heat races and main event, the demolition derby featured powder puff and mechanics events.
During intermission, drivers and their crews took on area children in a tug-o-war over a giant mud pit.
The drivers team won, with 10-year-olds Howie Fletcher of Omak, and Jeremy and Tyler Wirth and Colin Silverthorn of Tonasket the first to fall prey to the mud pit.
Demolition derby volunteers also carried Tonasket Founders Day Rodeo Queen Karlie Hennemen to the edge of the pit, but released her so she could present trophies to drivers without being covered in mud.
The event was kicked off by Parker Kenyon, 17, of Tonasket playing the national anthem on his electric guitar.
More like this story
Latest stories
Latest video: