Wednesday, October 30, 2013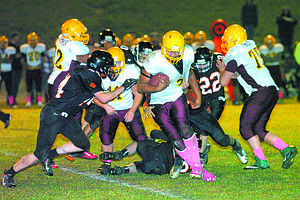 REPUBLIC — Republic slowly pulled away from Inchelium-Columbia, 80-34, for a homecoming victory Oct. 25.
The Tigers led 30-20 at the half and 52-34 after three quarters before pounding out 26 unanswered points in the fourth period.
Republic quarterback Aaron Fritts proved difficult to stop. He threw for 113 yards and a score (to Walker Baumbach) and rushed for 109 yards and 3 touchdowns.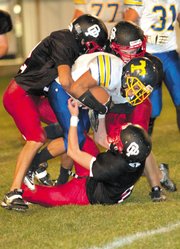 Alex Rivera proved elusive around the ends, rushing for 236 yards and four scores. On one run he ran completely across the field, reversed his course and went all the way back across the field again before heading to the end zone.
His twin brother Angelo scored three times while rushing for 121 yards.
The Timberwolves' Thomas Cohen proved hard to stop, especially when he got a head of steam. The six-foot, 249-pound quarterback ran for 2 touchdowns and passed for another.
Quentin Holford rushed for 2 scores. Edwards Stensgar caught the touchdown pass.
Republic (6-2 overall, 5-0 league) closes out the regular season at Northport (0-8, 0-6) on Friday, Nov. 1.
The Timberwolves (5-3, 3-2) are at Selkirk (5-3, 3-2) on Friday.
"We are in a do-or-die game now with Selkirk," Inchelium-Columbia coach Brian Myers said. "We lost one kid (Josh Thrumstron) to a broken arm and another to an ankle."
OMAK — Michael Orozco pushed out 3 touchdowns to help lift Tonasket to a 35-21 victory over Omak on Oct. 25.
"I am really happy for the kids," Tonasket coach Jay Hawkins said. "They played with a lot of positive energy."
Orozco also made all 5 conversion kicks.
Trevor Terris rushed 11 times for 90 yards and a score. He was 1-for-4 passing for 4 yards to Orozco.
Collin Aitcheson rushed 12 times for 29 yards and a score.
"We were really efficient offensively," Hawkins said. "The 'O' line played great and we had a variety of players who contributed."
Omak made too many mistakes, including losing two fumbles (recovered by Aitcheson and Austin Knowlton) in the first half, coach Nick Sackman said.
"That was hard on us," Sackman said, whose team trailed, 14-7 at the half.
"We came out the second half, cleaned up those kind of mistakes, then got penalty heavy," Sackman said.
The Pioneers were often pinned deep in their side of the field.
"We did a nice job controlling the field position with our defense and punt game," Hawkins said. "I thought we did a good job winning plays and seizing opportunities."
Jesse Manring got an interception to help end the game. For Omak, Dustin Thorp blocked a punt and Kyle McGowan returned it 12 yards for a score.
Quarterback Joseph Best (17-138) rushed for 2 scores. He completed 7-of-18 passes for 76 yards.
Receivers included Bryson Morris (3-22), Rusty Daffern (3-32) and Rowdy Kruse (1-22).
Other rushers for Omak included Daffern (3-17), Morris (4-35) and Thorp (12-52).
Omak (0-8 overall, 0-6 league) is at Okanogan (7-1, 5-1) for the Backyard Brawl on Friday, Nov. 1. See Page B4 for more on the long rivalry game.
Chelan (5-3, 4-2) is at Tonasket (3-5, 1-5) on Friday.
SOAP LAKE – Soap Lake knocked off Pateros, 44-28, in a Northeast 1B League south division game Oct. 25.
Soap Lake, which entered with one league win against third-place Pateros, came out fast for its homecoming game.
"They were pretty pumped up for the game," Pateros coach Marcus Stennes said.
Sam Eberhardt scored from five out for Pateros.
Mikey Piechalski (17-35-2, 340) passed for 3 touchdowns, including 56 yards to Carlos Cruz (4-136), 16 yards to Lance Evans (7-134) and 33 yards to Evans.
Carlos Ceniceros ran back an interception 87 yards to score. He also caught 4 passes for 59 yards. Entiat (4-4 overall, 2-3 league) is at Pateros (4-4, 3-3) for senior night and homecoming Friday, Nov. 1.
"This is a must win for us in order to stay in the playoff picture," Stennes said.
MANSON – Hector Garcia produced a couple big plays to help lift Bridgeport past Manson, 29-27, on Oct. 25.
Garcia (18-146) scored on a 60-yard run and then returned an interception 60 yards for a score. A missed two-point conversion in the fourth quarter proved to be the real difference.
For the Mustangs, Jonathan Oregon (18-126) scored on a 30-yard run and Uriel Medel (4-17) on a 1-yard dive.
Oregon ran for a two-point conversion in the first quarter that proved to be the difference.
Oroville (5-2 overall, 3-2 league) is at Bridgeport (1-8, 1-3) for the Mustangs senior night Friday, Nov. 1.
NORTHPORT – Curlew took care of business early en route to a 46-8 win over Northport on Oct. 25.
Gunner Brown rushed for 3 scores (his longest was 84 yards) and Kolten Fanning for 3 scores (his longest was 54 yards) for the Cougars.
Curlew (3-5 overall) finishes the season at league leading and No. 2 state-ranked Wilbur-Creston (7-1) for a non-league game Friday, Nov. 1.
More like this story
Latest stories
Latest video: