Wednesday, October 30, 2013
Halloween is upon us and this year, with the event on a Thursday, revelers are stretching the celebration across two weekends.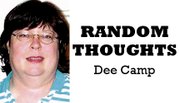 When I was young, I was a princess in a very scratchy mint green bridesmaid dress my mom got at Goodwill. It was frilly and sparkly, but made of nylon net. I get itchy just thinking about that dress, although I loved it at the time.
As an adult, most of my costumes either don't happen or turn out pretty lame.
So this year, as I pondered a possible costume for the office, I resorted to a computer search. My son tells me I look like an AT-AT walker from "Star Wars" when I use my crutches, so I thought maybe I could capitalize on that and build a costume.
I Googled for Halloween costumes for the disabled. The search didn't come up with anything for crutches or a walker, but I did get several suggested costumes for children in wheelchairs.
It was one of those "ah-ha" moments. I'd never really considered how kids who use wheelchairs would dress up for Halloween.
Sure, they can put on a costume and wheel around, but these suggestions were to embrace the chair and decorate it, too.
A bit of cardboard, paint and some imagination can turn a wheelchair into a pirate ship, a train or a covered wagon.
I'm not sure how, or if, I'll dress up, but I feel better knowing that creative people out in the greater world are finding ways to include all children in the celebration.
Dee Camp is a reporter at The Chronicle. She can be reached via email at dcamp@omakchronicle.com.
More like this story
Latest stories
Latest video: