Wednesday, October 30, 2013
In case you haven't heard, three members of the Omak Stampede's governing board have stepped down, trading their directorships spurs for the "honorary" board.
The board isn't providing specific information on why each of the three members have thrown in the towel.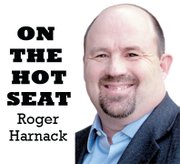 No matter, board changes are good, and not just for the Stampede. Board member rotations should be the norm, not the exception.
Nonprofit organizations struggle with complacency and become stagnant when the same board of directors continue year after year. As the saying goes, it's hard to teach an old dog new tricks.
New ideas flow into an organization when the doors of membership open, creating a feeling of inclusivity, rather than exclusivity. The decisions made to step down from the Stampede board will open new opportunities for that organization to grow. The change will open the door for new leaders to grow and for new ideas to fly from the saddle.
The same can be said for area chambers of commerce, tourism groups, educational and medical foundations, etc.
Rotation on-and-off every nonprofit board shouldn't be viewed as a bad thing. Rather, rotation should be viewed as opportunity — opportunity to re-energize, opportunity to change and opportunity for tired, overworked volunteer members to take a break and remember why they joined an organization.
Over the last few years, I've been a member of several volunteer boards. Quite often, the people sitting around me at one board meeting are the same from that organization to the next.
It's easy to see how volunteers can get burned out.
Lucky for the Stampede, it has hundreds of volunteers who work feverishly every year to put on Omak's premier event. Those volunteers provide a wealth of experience and excitement for the board to draw from.
That's not necessarily the case at area chambers, visitor centers and other boards.
Maybe rodeo is your calling. Or maybe participating in growing your town's business district and economy has piqued your interest. Possibly you've decided something needs to be done to improve health care, schools, tourism or another facet of our community.
There are opportunities for you. Get involved in the chamber, a local educational group, tourism boards or whatever you like.
Take time to volunteer for one-term.
Your hard work will be appreciated. At the same time, your efforts will help shape and improve our community.
And to the Stampede board members stepping down, your efforts haven't gone unnoticed. Thanks for giving your time and energy to make Omak a better place to live.
Roger Harnack is the editor and publisher of The Chronicle. He can be reached
at 509-826-1110 or via email at rharnack@omakchronicle.com.
More like this story
Latest stories
Latest video: