Originally published October 28, 2013 at 02:07p.m., updated October 28, 2013 at 02:07p.m.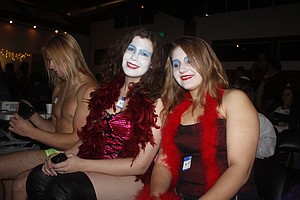 OKANOGAN — If you haven't had your fill of scary Halloween activities yet, two haunted houses remain open.
Haunted Scaregrounds is open from 7-9 p.m. Wednesday and Thursday at the Okanogan County Fairgrounds, 175 Rodeo Trail Road. And Nightmare at the Museum is open from 6-9 Halloween night in the Pateros City Hall, 113 Lakeshore Drive.
Nightmare at the Museum is themed "Cirque de Freaks" and includes decorated oddities, creepy clowns and sideshow freeks, organizer Tiffany Sullivan said.
At the county fairgrounds, the Okanogan High School drama club is providing a haunting experience.
The fairgrounds is also the scene of the Hip-hop Hallelujah Carnival from 5-8 p.m. Thursday.
Children attending the carnival will be treated to free hot dogs, popcorn and drinks. The event includes a cakewalk and other non-Halloween activities.
Meanwhile around the county, costumed children are expected to hit a number of downtown and neighborhoods for trick-or-treating. Some will also attend other events.
Here's the rundown of remaining Halloween activities in Okanogan and Ferry counties:
Brewster – American Legion Columbia Post 97 will host trunk-or-treat at 4 p.m. Thursday in the Legion hall's parking lot, 102 Third St. A costume contest will be at 4:30 p.m. in the same place, with trick-or-treating immediately following at Main Street businesses.
Keller – A trunk-or-treat event will be at 1:30 p.m. Thursday at the Keller School, 17 S. School Road.
Nespelem – Colville Tribal Credit Corp. will host a costume competition 1 p.m. Thursday at 14 Moses Road.
Oroville – Some businesses will participate in a Chamber of Commerce trick-or-treat event from 3-6 p.m. Thursday. The event includes a costume contest.
Twisp – Downtown businesses will offer candy during their regular businesses hours and during an evening event on Burgar Street. The community will also host a masquerade ball for adults Saturday night.
Winthrop – United Methodist Church will host its annual trunk-or-treat from 5-8 p.m. in the parking lot across from Town Hall at 206 Riverside Ave.
More like this story
Latest stories
Latest video: