Originally published October 25, 2013 at 04:19p.m., updated October 25, 2013 at 04:19p.m.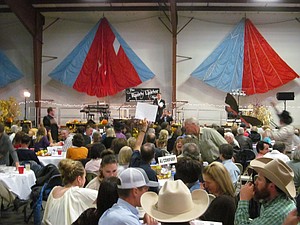 OKANOGAN — The Loup Loup Ski Bowl is toasting another successful Taste of Two Valleys fundraising dinner and auction.
The Oct. 19 gala was attended by more than 500 people, officials said.
And although final numbers haven't been tallied, Board President Dave Price said he expects more than $50,000 was raised for Loup Loup.
"It was really good event," Price said. "The food was fantastic… The band was a lot of fun and people were particularly generous."
This year was the 14th Taste of Two Valleys, so organizers have "gotten it down to a science," Price said.
"I tell people to bid often and bid high and they were," he added.
Price said the event acts as a kick-off to the ski season. By the time it's over, everybody is thinking about hitting the slopes.
"Us skiers are pretty excited about that," he said.

This year, the main fundraising focus was pointed at buying a new groomer for the mountain — the least expensive of which will run between $70,000 and $80,000.
Future plans also include building a new lodge and increasing the size of the ski shop.
Typically, the money raised goes toward capital improvements, such as paying off the loan for the chair lift and adding new administration buildings.

More like this story
Latest stories
Latest video: